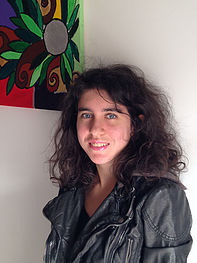 Alice Voglino
I was born in 1995.
I discovered colour when I was 8 years old and it has been my constant companion ever since, and is now my way of communicating.
In 2013 I obtained my High School Diploma from Art Institute and now I am attending the Painting School at the Fine Arts Academy in Verona.
I debuted in contemporary art at 18 in Austria during an international exhibition, and since then I have received various nominations, I have taken part in contests and national and international contemporary art exhibitions. I have also recently gained experience in art design.
I live and study in Verona (Italy).
Philosophy
My sensibility led me to observe my surroundings with curiosity and experience them through my own sense of self, as a path of personal knowledge, communicating the essence of things through art and trying to convey energy, harmony and beauty.
Through the clarity and composition of colour, I describes the invisible and thus makes it visible.