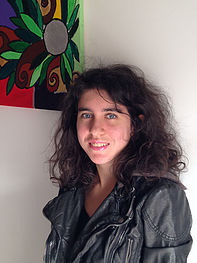 Alice Voglino
I was born in 1995.
I discovered colour when I was 8 years old and it has been my constant companion ever since, and is now my way of communicating.
In 2013 I obtained my High School Diploma from Art Institute and now I am attending the Painting School at the Fine Arts Academy in Verona.
I debuted in contemporary art at 18 in Austria during an international exhibition, and since then I have received various nominations, I have taken part in contests and national and international contemporary art exhibitions. I have also recently gained experience in art design.
I live and study in Verona and love the light of Miami, which is a source of inspiration for my work.
Philosophy
Colour and its infinite nuances and light are fundamental features in my artistic research.
I am fascinated by Nature which to me represents wellbeing, harmony, life and the energy that creates and connects everything.
I am fascinated by people and what they express through their being.
Painting helps me give shape to life's emotions, to be in touch with my inner strength and be at peace with myself.
My works portray a message of joy for living, which I sometimes find hard to put into words and to express in my personal relationships.
Apart from colour, I use various other materials that are further enhanced by colour.
Such as shells that I find on the beach, for their delicate shapes and because to me they mean home, love, family.
There are then other materials such as glittering forms and different colours that help me to represent light.
Or other natural materials (stones, plants, sand, cork, wood, paper, …) and everyday items to emphasise forms and space.